GREECE & ITALY : A journey back in time…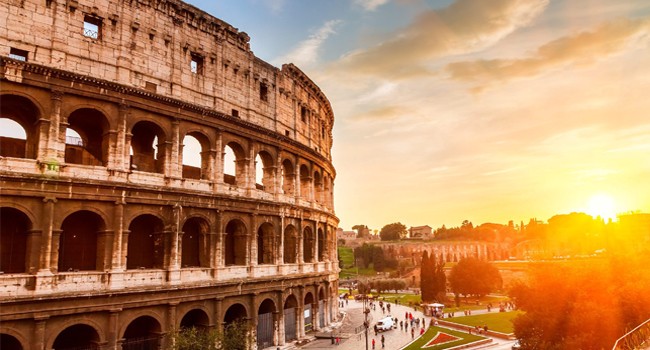 Package Code : IP009
Package Name : GREECE & ITALY : A journey back in time…
Package Days : 10 Days / 9 Nights
Tour Itinerary : Delhi - Athens - Three Island Cruise - Delphi - Patras - Italy - Sorrento - Capri - Naples - Pompeii - Rome - Delhi
Greece is located in south-eastern part of Europe. Ancient Greece is considered the cradle of Western civilization as it is the birthplace of Western philosophy, Olympic Games& Western literature. Greece has always influenced the world with its cultural and technological achievements. Greece's rich legacy is also reflected by its 17 UNESCO World Heritage Sites, among the most in Europe and the world.
Italy is one of the most popular countries in the world. It is also famous for its delicious cuisine, trendy fashion industry, luxury sports cars and motorcycles, diverse regional cultures and dialects, beautiful coast, alpine lakes and mountain ranges. It is often called the Bel Paese (the Beautiful Country).Italy has also been home to very famous and renowned artists like Leonardo da Vinci, Galileo, Michelangelo andMachiavelli.
* This is a sample itinerary. We will custom make the trip as per your requirement.

Day

Travel Plan

1

New Delhi – Athens

Departure from Delhi International Airport. Fly through the night to Athens. Arrive at the Airport in the morning.

Admire the beauty of the city while you are taken to your hotel. Rest and relax as it's been a long journey. Breakfast will be served in the hotel.

After relaxing for a while proceed for visiting the beautiful Roman Agora which includes remains of ancient Roman structures like Gate of Athena Archegetis, the Fethiye (Victory) Mosque & the Tower of the Winds (Aerides)

Later proceed to visit the Spectacular ancient neighborhooddistricts of Plaka & Anafiotika.

The neighborhood was built according to typical Cycladic architecture and even nowadays gives to visitors the feel of Greek islands in the heart of the city.

Enjoy a typical Greek dinner here.

Comfortable Overnight stay at the hotel.

2

Athens – Three Island Cruise

After a sumptuous breakfast at the hotel, embark on3 island cruise.

Santorini, Paros and Hydra these are the most popular and the most beautiful islands of Greece

Don't miss the beautiful fifth century BC temple of Afaia, the pistachio orchards in Aegina, the grand eighteenth century mansions surrounding the harbour of Hydra, and the picturesque back streets of Paros.

Get ready for a Bouzouki night – experience true Greek culture with dining on local dishes and dancing to traditional Greek folk songs.

Have a comfortable night stay at the hotel.

3

Athens - Delphi

Enjoy breakfast at the Hotel.

After the breakfast proceed for a bus tour of Athens including Tomb of the Unknown Soldier, Royal Palace, Panathenian Olympic Stadium, and Temple of Zeus

Later Visit the ancient sites of Athens: the Acropolis, Parthenon & Erechtheum.

Depart towards Delphi, once considered to be the center of the world. Delphi is both an archaeological site and a modern town of Greece.

Discover the many archaeological treasures of the Delphi museum, such as the unique bronze Charioteer.

Check-in at your centrally located hotel.

Enjoy an authentic Greek dinner with your companions.

Overnight accommodation in Delphi

4

Delphi – Patras - Italy

After having breakfast at the hotel, continueexploring highlights of the city.

Visit the temple of Apollo, erected on the remains of an earlier temple dating from the 6th century BC.Transfer by bus to Patras.

Patras is Greece's third largest urban area and the regional capital of Western Greece.

Patras and its region is home to various Ancient Greek, Roman and Byzantine Monuments, including the Roman Odeon, the Fortress of Rio and the Fortress (castle) of Patras.

Also visit Church of Saint Andrew, Roman Amphitheatre, Patras Archaeological Museum.

Spend the evening in the streets of Patras and later take an overnight ferry to Italy.

5

Sorrento (Italy)

Watch the ferry pull in to the port of Bari.

Transfer by private motor coach to Sorrento.

Make a stop in Benevento to see the Arco di traiano, the best conserved Roman triumph arch in the world.

In Sorrento, check-in at the hotel.

Enjoy some well-deserved leisure time at the hotel.

Sorrento is a beautiful town overlooking the Bay of Naples in Italy. Proceed for a tour of the Amalfi coast

The Amalfi Coastis a stretch of coastline on the southern coast of the Sorrentine Peninsula. It is declared as a World Heritage Site by UNESCO.

Night stay at the hotel.

6

Excursion: CAPRI

Have breakfast at the hotel.

Travel by ferry across the Bay of Naples to the small island of Capri.

Visit the beautiful Blue Grotto, the emblem of the island of Capri
(subject to weather conditions).

Have time to explore Capri, the enchanting cliff-top village with its medieval alleyways and quaint squares

Catch the ferry back to Sorrento

Dinner and night accommodation in Sorrento.

7

Naples / Pompeii / Rome

Have a typical Italian Breakfast at the hotel

After Breakfast transfer to Naples to visit the Museo Archeologico nazionale, home to the Farnese collection of antiquities from Lazio and Campania as well as the best finds from the nearby sites of Pompeii and Herculaneum

Continue to Pompeii, completely destroyed by the eruption of Vesuvius in 79 A.D and visit the impressive ruins.

Leave to head to Rome and end your day in here - check-in at the hotel

Enjoy an authentic Italian dinner with your companion.

8

Rome

Have a wholesome breakfast at the hotel.

See the Pantheon one of Rome's best preserved ancient building, the Fountain of the Four Rivers in Piazza Navona and spend some time exploring Piazza del Popolo.

Have a guided visit of Ancient Rome, circle round the Arch of Constantine towards the ruins of the Roman Forum, the area around which ancient Rome was developed.

Visit the Colosseum - originally known as the Flavian Amphitheatre

Enjoy an authentic Italian dinner in your hotel.

7

ROME – The Vatican City

Have Breakfast at the hotel.

Get ready to witness and discover Vatican city, Rome's state-within-a-city

Begin with St. Peter's square and enter the immense and grand St. Peter's Basilica.

Visit the Vatican Museum including the Stanza di Raffaele (Raphael Rooms) & Tapestry Gallery.

End your visit with the Sistine chapel and its vaulted ceiling painted by Michelangelo.

Look for the self-portrait he hid in the mural of the Final Judgment.

Have the rest of the evening to explore Rome at your leisure.

Enjoy an Italian dinner & song in a typical trattoria "Tana de Rei".

8

Rome – Delhi

After breakfast check - out from the hotel to catch a flight for Delhi

Places of Attraction